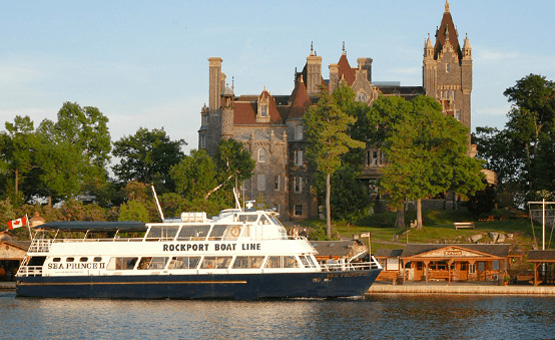 Enjoy a one night stay in a waterside room with breakfast the next morning. After breakfast enjoy a Two Castle Non-Stop Sightseeing Cruise of the 1000 Islands.
Exclusive to Rockport Cruises this 4 Hour Non-Stop Cruise takes you on a journey through the rich history of the 1000 Islands and its Gilded Age.
Enjoy the panoramic views of the majestic St. Lawrence River as we cruise past Mysterious Singer Castle on Dark Island and the famous Boldt Castle on heart island, the Grandest of all the Gilded Age Mansions,  and Vast Estates through Millionaires Row.
This cruise also features the Canadian Palisades, 1000 Islands International Bridge, Zavikon Island, Boldt Yacht House, St. Lawrence Seaway, Sister Island Lighthouse, and Grenadier Island. Includes a Picnic Lunch onboard.
During your stay be sure to visit our Rockport General Store & Gift Shop. Take home a memory; enjoy gourmet coffee, snacks, or an ice cream cone on the deck.
Package for Two Guests Includes:
1 night accommodation in a waterside motel room
$30.00 breakfast voucher
Two Castle Cruise Tickets
Discount coupon for the Rockport General Store & Gift Shop
Passports are not required for this Sightseeing Cruise.
 Rates are based on 2 people and do not include taxes and service charges